What Is Restorative Dentistry?
Restorative Dentistry refers to the art and science of restoring damaged teeth to their original form and function. Decay, trauma, or some other cause may result in partial or complete tooth loss, and a number of treatment options are available to restore your smile and ability to chew efficiently. Restorative dentistry can also improve an irregular bite, prevent tooth loss, and relieve dental pain.
Fillings
Dental fillings effectively repair small amounts of tooth structure lost to decay or trauma. A variety of materials exist, and we'll work together to determine the right material for you. Factors influencing the decision include tooth location, chewing force to be sustained, and esthetics. The two most common dental filling materials are silver amalgam and tooth-colored composite resin.
Crowns
Dental crowns are tooth-shaped coverings placed over your entire tooth, from the chewing surface down to the gumline. They may be used to strengthen a tooth that's cracked, or to replace large amounts of tooth structure lost to decay or trauma. Crowns are also used to protect teeth that have had root canal treatment or to hold a dental bridge in place. Crowns can be made exclusively of metal (gold, for example, a superior choice for longevity), porcelain fused to metal (combined for aesthetics and strength), or all-ceramic (a superior choice for aesthetics).
Bridges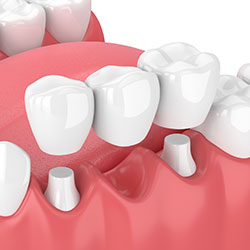 Dental bridges are designed to replace one or more missing teeth. A typical bridge is one single unit—two crowns go over the teeth on either side of the missing space, with one or more attached, "floating" crowns in between. Other options for tooth replacement include removable dentures and fixed dental implants. Have questions? Schedule an appointment today to determine the treatment that's right for you.
How Do I Care For My Dental Work?
Restorative materials require the same conscientious care as your natural teeth. Even after a tooth has been treated with a filling or crown, the remaining tooth structure remains susceptible to dental disease. Brush and floss all teeth, both natural and restored, twice daily. Visit your dentist for routine maintenance. If you clench or grind, a nightguard (or day guard) can help protect your teeth and your investment. We'll be sure to discuss specific care instructions during your visit.